ARTISTS READING ART EXHIBITION POSTPONED
"The best laid plans of mice and men [women] often go awry. "*
"Art Book Club: Artists Reading Art" was to be exhibited at LGM Studio and Project Space in Olympia, WA, May 9- June 7, 2020, and has been postponed due to COVID19 until October, 2020 (quarantine permitting). For over 10 years, a collective of women visual artists have gathered monthly as the Art Book Club for readings and discussions about art, art and society, and artists. Art Book Club provides an opportunity for these artists, many of whom are unaffiliated with academic institutions, to conduct deep conversations. Books have ranged from Simon Schama's Landscape and Memory to Sontag's On Photography to readings by John Berger, Rebecca Solnit and many others. The group was inspired by Ninth Street Women by Mary Gabrial to create this exhibition. For the exhibition, each artist created works in response to a selected book or reading. Here is a selection of the work included in the exhibition. Participating artists include: Ellen Sollod, Amanda Knowles, Gene Gentry McMahon, Barbara Robertson, Barbara Noah, Lisa Buchanan, Virginia Paquette, Anne Marie Nequette, Lydia Bassis, Jackie Barnett, Rebecca Cummins, Sue Danielson, Joan Stuart Ross, Sally Schuh and Liz Roth.
We are delighted to be featured on The Social Distancing Festival.
*adapted from a poem by Robert Burns.
Image above: ©Ellen Sollod, Source Code (detail), 2019, archival digital print.
©Anne M. Nequette, Shanghai China, 39.4 million in 2015, mixed media
©Amanda Knowles, Construction View i-!!, 2019. Screenprint, Graphite, & Acrylic on Paper, 42″ x 60″ (2 @ 42″ x 30″), 2019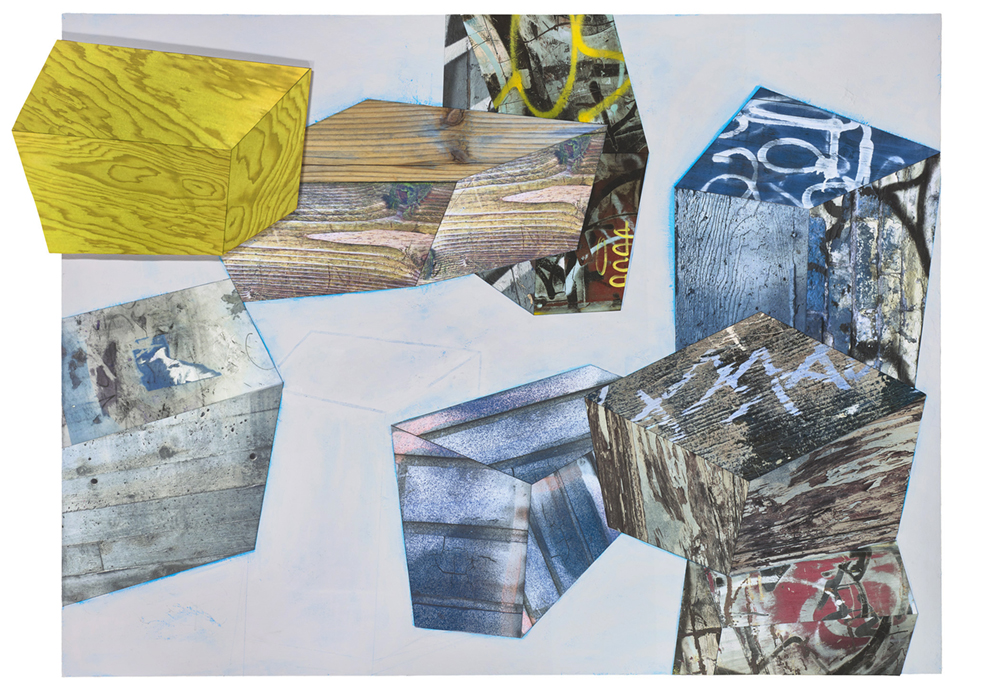 ©Barbara Robertson, 2019. Here Today, acrylic, wood and paper on panel, 36″ x 51″.
©Barbara Noah, Revolution 2, 2017, archival digital print, 29″ x 28.75″
© Gene Gentry McMahon, Sirens Convene, 2019, Hand colored relief print, 32″ x 24″.
© Sue Danielson, Where I go to Dream Across Time, 2019, mixed media on panel, 40″ x 30″.
©Lisa Buchanan, Blow Back, 2020, oil on canvas, 48″ x 48″
©Jackie Barnett, When, 2020.
© Joan Stuart Ross, Crossword: Wind, 2020, ink, collage on paper, 22.25 x 30″
© Virginia Paquette, Materie Prime n13, found papers, acrylics, 30 x 22″
© Ellen Sollod, Memory of Landscape, 2019, archival digital print from pinhole negative. 13″ x 13″.